At justinsomnia.org, Justin Watt has been chronicling — through words and beautiful photos — his hiking on the trails of California. Justin also writes about food and cooking, and his latest post is about his perfect omelet. Inspired by Justin, but also in the habit of eating eggs in the evening, I made a simple omelet tonight. Once the omelet was plated, I topped it with five dashes of homemade hot sauce, bright with the flavor of the cayenne peppers bought at the Carrboro Farmers Market late last summer. The recipe in Mrs. Wheelbarrow's Practical Pantry is an excellent guide for canning and preserving, and I'm already studying it to plan for this summer's bounty. Until then, I'll monitor the few jars of hot sauce left stashed in the pantry next to a couple remaining jars of homemade scuppernong grape juice.
---
☀ No.12, by Anton Zuiker, on March 9, 2016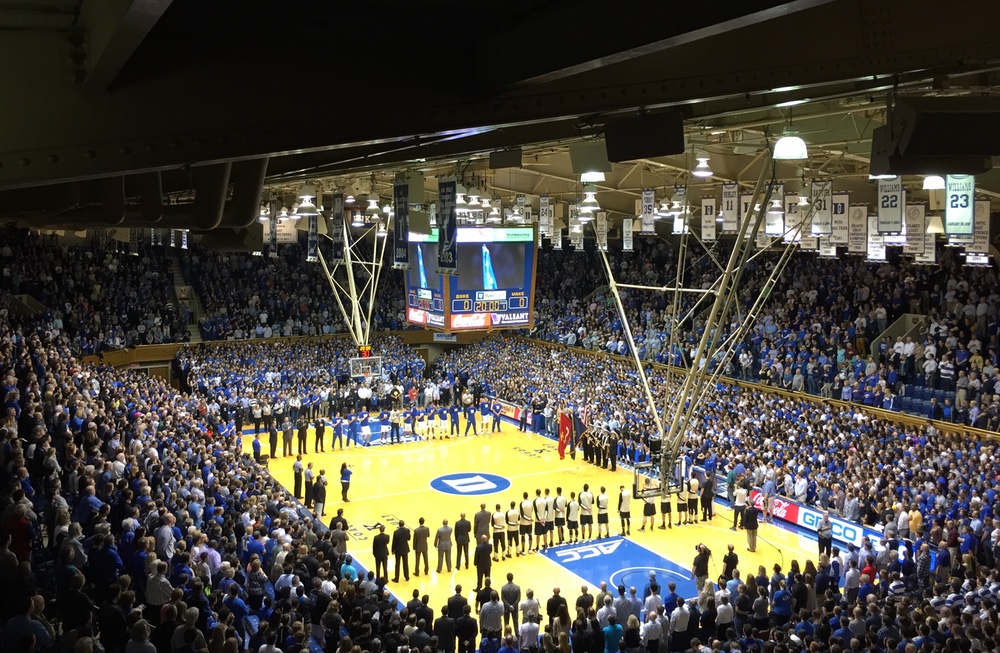 At work last month, I helped organize the annual Medicine Research Retreat. The presentations and discussions this year focused on seizing opportunities, reflecting a new health-system strategic plan, a new health policy center, increased collaborations between the schools of engineering and medicine, and more attention to innovation and entrepreneurship. Scan the Duke River or Threedot Duke Health to see some of this activity.
I went with Erin to Durham's Carolina Theatre last week to hear Josh Ritter, one of our favorite singers.
The next night, I took Anna to Cat's Cradle, in Carrboro, to hear Tift Merritt, heartily singing songs from her Bramble Rose album of a decade ago.
The next day, Erin and I bought a new Toyota van, safe and reliable like the 12-year-old Sienna we traded in.
A few nights later, with tickets from my boss, I went with Jeff Polish to the Duke vs. Wake Forest men's basketball game in Cameron Indoor Stadium, our seats in the upper corner reminding me of Blackhawks games in old Chicago Stadium. Jeff encouraged me to watch the videos his team has been capturing at The Monti storytelling events. Duke won.
The next day, my colleagues and I coordinated a series of video interviews with Department of Medicine leaders, including a conversation between Robert Lefkowitz, winner of the Nobel Award for Chemistry, and Howard Rockman, director of the Duke Cardiovascular Research Center. That night, I went by myself to hear Kurt Vile and the Violators at Cat's Cradle.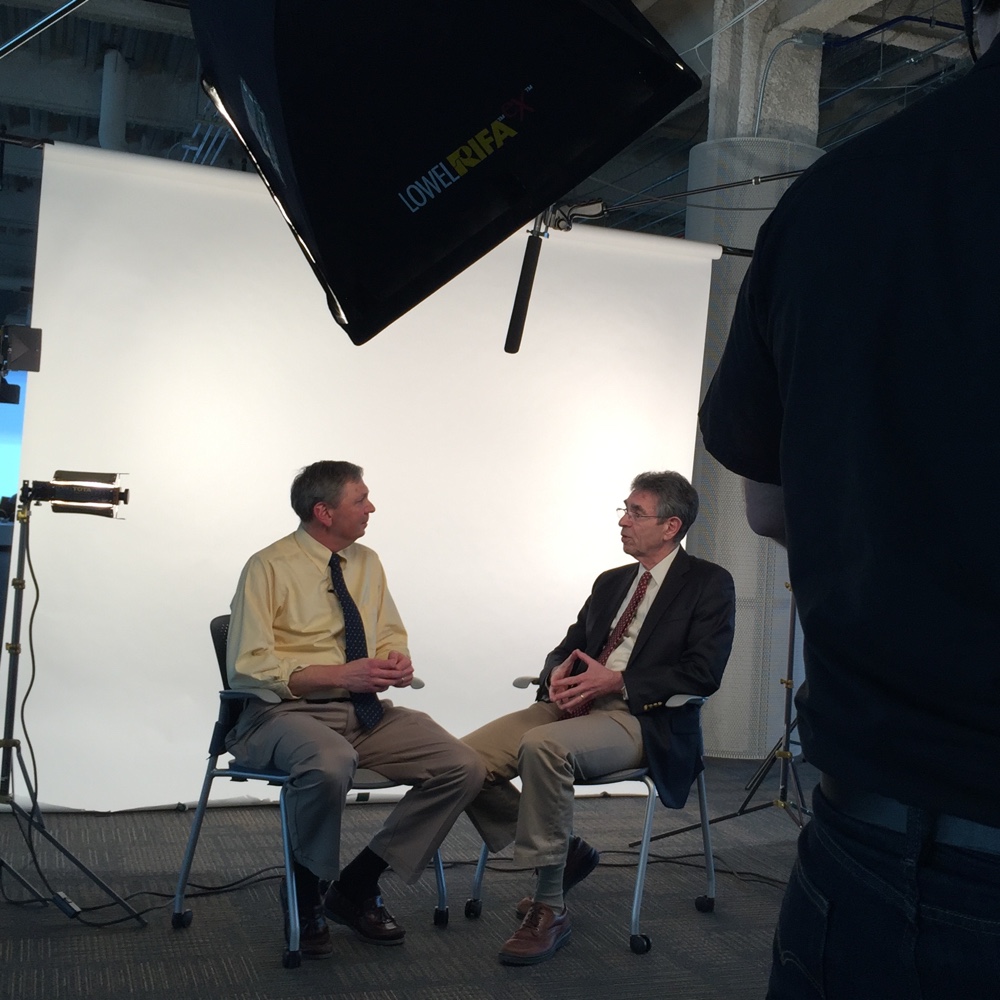 ---
☀ No.11, by Anton Zuiker, on March 6, 2016

Austin gets the NYTimes 36 Hours in treatment today.
My short visit there last month was enjoyable, even if I did feel like I was about to die, stumbling down Congress Avenue after the race. I ordered a cortado from Caffe Medici, but left before it came to the counter. Nick and Carolyn found me shivering outside, dazed and pale. We walked home, over the bridge. A short nap, a hot shower, and a bottle of Gatorade revived me, and by late afternoon, we were at Bangers Sausage House and Beer Garden, smiling at the day's accomplishment.
I finished the Austin marathon in 4:29:30.29, a few minutes slower than my 2014 Honolulu Marathon finish. (Nick finished Austin in 4:45, and Matt in 6:04.) I have the flatter Tobacco Road Marathon here in the Triangle next week to get closer to my target 4 hours.
---
☀ No.10, by Anton Zuiker, on March 6, 2016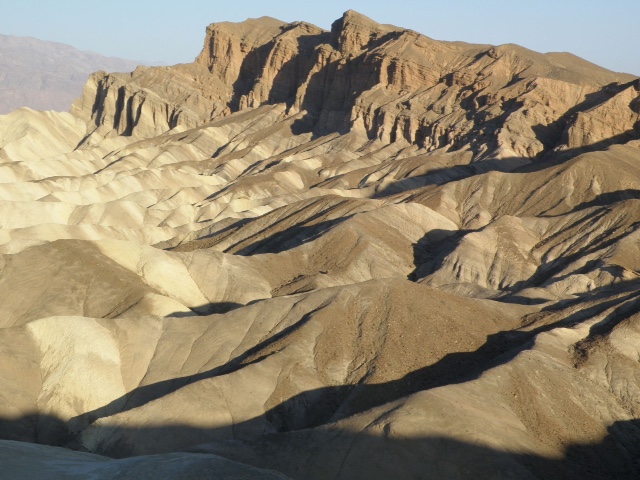 Larry Zuiker has written a book about his love for hiking, and the enjoyment he gets taking friends and family on the trails of the Southwest.
[These individuals] have allowed me to experience the beauty of Arizona's deserts, mountains, rivers and canyons. They have also followed me beyond Arizona to Zion, Mount Rainier, Bryce Canyon, Grand Canyon, Death Valley and Capitol Reef National Parks.
Larry's book, Hiking Arizona and Beyond, chronicles his favorite hikes with details of the trails and his memories of being in those grand spaces. He includes many color photographs, showing the rattlesnakes he encountered, rivers he forded, and footbridges he crossed.
One chapter is about his trips to Death Valley, the largest national park in the lower 48 states. Larry studied the National Geographic map to plan his hikes, then used Google Earth to find "a gem of a slot canyon not shown on the park map." He hiked with three friends into that canyon, to a high ridge overlooking the rainbow hues of Artists Ridge. Larry also once hiked through Zabriskie Point during a rare rain storm.
Right now, in 2016, Death Valley is in a superbloom, last year's rains giving moisture, in this driest of places, for flowers to blanket the valley.
More than 20 years ago, Uncle Larry came to visit my dad and me in Hawaii. Larry wanted to hike one of the pali trails (the Hawaii Mountain and Trail Club has a good list). I was disabled by a painful back injury, so dad and Larry went hiking without me.
Now, I'm looking forward to an April trip to Phoenix. I will attend the AAMC Group on Institutional Advancement professional development conference, where the Duke School of Medicine and Department of Medicine will receive an award for our collaborative web redevelopment project. Larry and I have scheduled a hike in the red-rock country of Sedona on my final day in Arizona.
Zuiker books
Larry's book follows in the footsteps of Michael Zuiker, my father, and my grandfather.
---
☀ No.9, by Anton Zuiker, on February 29, 2016
I've updated the Duke River, at dukeriver.co, to use the new River5 river-of-news RSS aggregator created by Dave Winer.
The Duke River is a river of news for Duke University, my employer. Duke River displays the few dozen newsfeeds I've been able to find from across the university and medical center, and it helps me get a better sense of the news, announcements and activities at Duke. (I've left off the sports and calendar feeds for now; otherwise, there'd be even more to watch.)
I wrote about the Duke River in this earlier post.
I'm especially happy about this update. River5 was super easy to install on my Mac to run a local version of Duke River. Then I figured out how to install River5 on my Webfaction account. Webfaction has a one-click installation of Node.js, and a good help desk that told me how to use the correct assigned port. Moving to Webfaction will save me money I was paying to Amazon AWS. I also figured out how to use Forever to keep the script running, and Dave and others on the support list told me how to pull the correct river file into the html page you see at dukeriver.co.
Now that I have a stable, flowing Duke River, I can begin to promote it at Duke, and encourage others to use River5 to create their own news rivers.
---
☀ No.8, by Anton Zuiker, on February 23, 2016